The Taiwanese Tech Giant HTC's financial figures for the second quarter of 2015 looks very grim. The share price has halved from £146.5 ($224.63) to £68.50 ($105.03), generated $1.064bn (£692m) in revenue in the quarter to June 30, and a net loss after tax of $259m (£168m). If you'd bought £100 ($153.33) worth of HTC shares at their peak in April 2011, they'd be worth less than six quids (nine bucks) now. After four quarters of marginal profits, the share price is dropping like a dead stone.
From M8 to H8
Last year HTC One M8 won plenty of phone of the year awards, it has the most polished (compare to TouchWiz and others) user interface skin, decent camera in a full metal (stainless steel) jacket. This generated a healthy margin in sales, but only up to a certain point.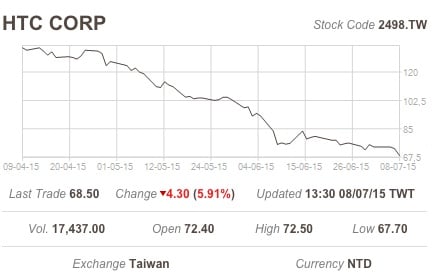 So what went wrong with HTC Corp?
HTC took an early lead in the Android market with handsets like the Hero, Desire and Desire HD. They all have had a very good reputation for built quality. But, HTC never had a strong portfolio in the high-margin end of a cut-throat market. HTC has always struggled to keep existing customers up to date with the latest version of Android firmware, many suffered from awful battery consumption and random turn-off bugs, their support was mostly useless. Rooting earlier HTC devices were almost beyond impossible. The name of HTC One left many confused, before the HTC One there were One X, One XL, One S, One V, One Mini, One Max etc.
Too Little Too Late
Despite all the positive reviews of M8, it was a too little, too late. To make matters worse, this year's flagship model the One M9 suffered from appalling camera performance. M9 sales are 43 per cent down from the M8. HTC had also under-invested in marketing, and few of its campaigns were memorable – except for being completely off-the-wall awful.
Customers Forgotten
The smartphone market is very competitive. HTC had the chance to build a very loyal fanbase of Android users, but through their own incompetence, ineptitude and dire support they squandered it. And they're now reaping what they've sown. They will never have the same momentum behind them for their next phone, although they might still be in the M8 upgrade window following it's temporary success. But temporary success is no substitute for brand reputation, which HTC is completely lacking.